Featherfin Synodontis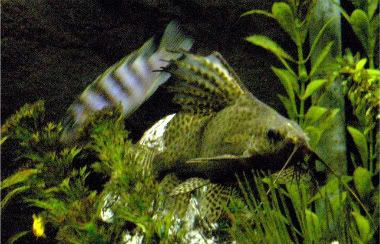 Scientific Name:
Synodontis eupterus
Common Name:
Featherfin Synodontis
Family:
Mochokidae
Species Type:
African Catfish
Adult Size:
Potential 8-9 inches 6-8 inches is more typical
Life Span:
12-15 years is typical but can live 18 years.
Origin:
Lake Tanganyika, White Nile, and Lake Chad basin
Minimum Tank Size:
A four foot tank (40g breeder or 55g) is recommended for a single specimen. A larger tank should be provided for a group.
Water Region:
Bottom dweller
Water Temp:
71°-78° F
PH:
6.0-7.5 not picky but should be consistent.
Diet:
Omnivore, this species is not picky and will consume just about anything you put in front of it. A high quality pellet staple should be provided and can be supplemented with live black worms, earthworms, frozen brine shrimp, and spirulina.
Temperament:
Peaceful but territorial. If keeping more than one make sure to give them room to set up territory.
Filtration and Tank Setup:
Heavy filtration is recommended. This species is a high waste producer and will expel a lot of food around at feeding time. Tank décor should include lots of rock work for caves and bog wood is also appreciated. Fine gravel or sand substrate is accepted. This species also enjoys open area to swim around freely.
Tank mates:
This species does well with tank mates of similar size or larger. Other bottom dwellers are not a top choice. Good for community tanks. I have had success keeping them with Mbuna Cichlids and also with larger Central/South American Cichlids.
Description:
These are very cool catfish to keep. Although fairly easy to keep, I would not recommend this species to the beginner aquarist. Because of their long life span and adult size they require a long term commitment. I recommend keeping them in groups although it is ok to keep just one. In my experience they are a lot more active and fun to watch in groups, especially at feeding time.
Sexing/Coloration:
The only accurate way to identify male from females it to vent them. The best way to do this is to flip them upside down with their head towards your finger tips. You will want to examine their vent area just in front of their anal fin. Males will look like oo Females will look more like oO.
This species will change color and pattern as they mature. As juveniles they will be a grayish color with black stripes. As they mature they will become more brownish with black spots. Its dorsal fins ray out like a fan with slight extensions form each point. This species has a unique set of barbells which I find very interesting.
Breeding:
This species is an egg layer. With the research I have done I have came to the conclusion that it is very rare for this species to breed in captivity.
Additional Comments:
This is a very fun and rewarding species to keep. This catfish is also very hardy and is very adaptive. I have had success keeping it with a number of different species. If you can provide adequate housing and a long term commitment this catfish is very rewarding and fun to keep and watch.